Introducing TJA's new board of directors and fiscal sponsor
Meet the board and learn more about our plans and ambitions for the coming year. We're working to drive better coverage of trans issues and to help trans journalists thrive in the industry.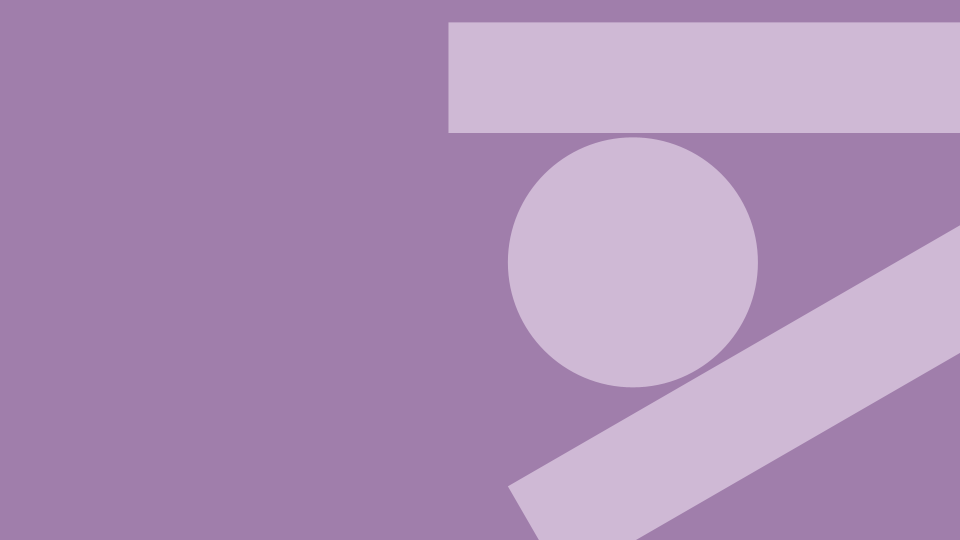 Over the last few months, TJA has been working with the Vance Center's Lawyers for Reporters program to finalize its nonprofit incorporation, develop its bylaws, and attain fiscal sponsorship.
After months of work, that process is now complete. Tiny News Collective will fiscally sponsor us in the next stage of our development.
As part of that process, we are also announcing our new board: Kae Petrin will serve as president, Adam Rhodes will serve as the board's secretary, and Minami Funakoshi will serve as treasurer. Gina Chua and Graph Massara will serve as board-members-at-large.
What's next?
Over the next few years, we'll be working to:
Attain a federal 501c3 designation
In collaboration with TJA's lawyers, continue developing governance, including the board, committees, and other structures
Establish consistent, diverse sources of funding to better serve trans journalism and trans journalists, with the goal of eventually bringing on full-time staff
Additionally, we hope to build programming that will fund better coverage of trans issues, especially by trans journalists, and help respond quickly to questions from newsrooms about coverage issues, breaking or enterprise. We'll also work to continue supporting our members' careers through training, mentorship, and networking opportunities.
How can I support your work?
You can donate to help sustain our growth.
Share our style guide and employer best practices resources with your newsroom and your colleagues.
Are you a trans, nonbinary, or gender-expansive person working in media? Join our online spaces for trans journalists! Learn more about membership and how to get involved.
Does your newsroom want to learn more about coverage best practices on trans issues? We currently offer one-off trainings and are working to develop a more robust training curriculum.
Is your newsroom hiring? Send the listing to our jobs email list jobs@transjournalists.org.
Are you a journalist willing to donate your time and expertise to lead skills trainings for our members? Let us know!
Does your news organization or conference want to partner on programming related to best practices for trans coverage or employer policies? Let's chat.
Email contact@transjournalists.org to talk further.
If you're at the NLGJA national convention in Philadelphia, join us at a happy hour on Thursday 9/7 from 5:30p-6:30p at the Lobby Lounge hotel bar.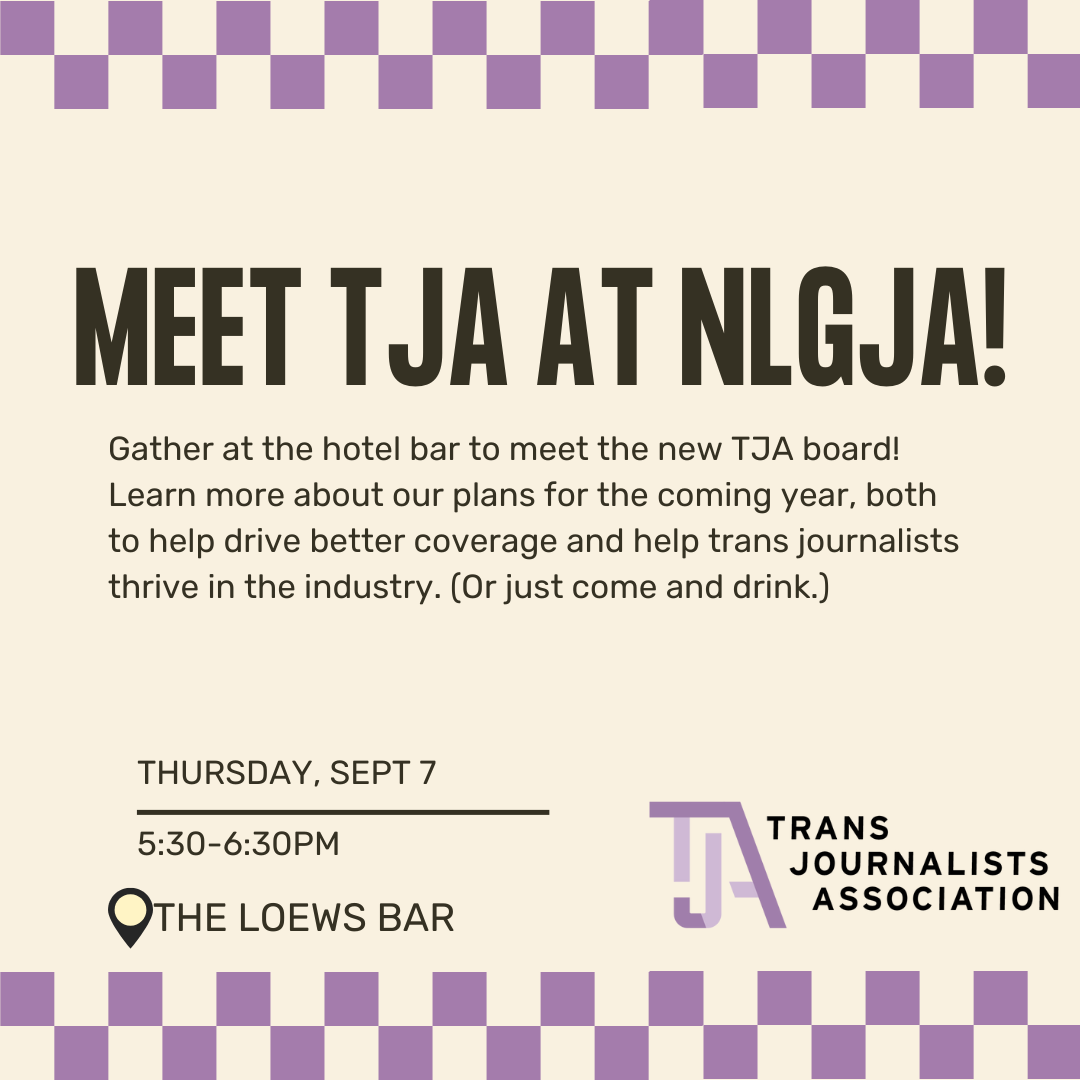 Learn more about our board of directors

President Kae Petrin, who will also serve as a volunteer interim executive director, cofounded the TJA in 2020 with several dozen other journalists who organized out of an informal Slack. They have since run many of the organization's internal operations. They currently work as a Data & Graphics Reporter on Chalkbeat's data visuals team and do part-time data reporting for the Mississippi River Basin Ag & Water Desk. They have presented on queer and trans coverage best practices, data reporting and visualization tools, and the intersections of these topics for universities, industry conferences, custom-designed workshops, and newsrooms around the U.S.
Secretary Adam Rhodes is an investigative journalist whose work primarily focuses on queer people and the criminal legal system. Their recent work has examined HIV treatment access in Puerto Rico, HIV criminalization in Illinois, and a homophobic capital murder trial in the state. They have been published in outlets including BuzzFeed News and The Nation. They currently work as a training director at Investigative Reporters and Editors.
Treasurer Minami Funakoshi is an award-winning nonbinary graphics journalist at Reuters. They make data-driven visual stories, develop tools, and do backend and frontend development. Their recent visual story on anti-trans bills in the United State provides detailed analysis on the common methods used to restrict gender-affirming care for both adults and minors. Their graphics story on gender-inclusive languages won multiple awards, including Gold from Information is Beautiful, Silver from Society for News Design, and Excellence in Nonbinary and Gender Nonconforming Coverage from NLGJA: The Association of LGBTQ+ Journalists.
Gina Chua is currently Executive Editor at Semafor, a new global news startup. She joined it in May 2022 as part of the founding team led by Ben Smith and Justin Smith. Prior to joining Semafor, she was Executive Editor at Reuters, where she oversaw newsroom operations, logistics, budgets, safety and security, and worked with technology teams to develop newsroom tools, among other responsibilities. Gina was also the editor-in-chief of the South China Morning Post and The Asian Wall Street Journal in Hong Kong; a deputy managing editor at The Wall Street Journal in New York; a foreign correspondent in Singapore, Manila and Hanoi; and a television and radio journalist in Singapore. She co-founded the Sigma Data Journalism Awards and was the inaugural recipient of the Online News Association's Impact Award for her dedication to innovation. She's a regular speaker at journalism conferences and writes occasionally about the future of journalism and the intersection of the industry and technology on her blog.
Graph Massara is the editor of the TJA's style and coverage guide. He was most recently a fact-checker with the Associated Press, where he also contributed to the AP Stylebook's entries on LGBTQ+ terminology. Prior to that, he was a newsletter editor at POLITICO. Graph's professional interests include media criticism and ethics, the viral spread of mis- and disinformation, and online radicalization. He is an alum of UC Berkeley.